The inaugural Macau Grand Prix was held in 1954 and 15 drivers took part in that event, according to history books.
Looking back at the history of Macau, the area had been the Portuguese colony since 1887. Naturally, it became a center of commerce of trade between Asia and Europe and many Portuguese resided there. This meant the latest products of Western culture kept coming in to the colony and not a few wealthy people bought automobiles when they became commercially available. Then it was also natural that, as were the cases everywhere in the world, those early car owners began to compete on the speed of their machines with each other and soon they wanted an organized race meeting.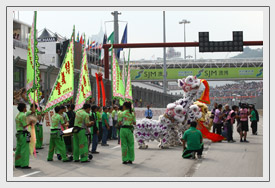 The inaugural Macau Grand Prix was a four hour race on the original 3.9 mile Guia Circuit and Eduardo de Carvalho, driving a Triumph TR2, put his name on the first page of the official record book by his glorious victory. For the third meeting in 1956, the ten pit garages and the spectator stand with 300 people capacity were built. Two years later, the course layout of Guia Circuit was modified into its current form - 3.8 mile (6.115km) in length.
The Grand Prix made a great leap forward in the sixties. By adopting FIA's Sport Car and Grand Touring Car regulations, it had secured a slot on the Federation's International Sporting Calendar and was formally given international event status.
In 1962 and 1963, Arsenio Laurel won the Grand Prix with his Lotus 22 for two consecutive years and became the first driver ever to do so. But, sadly, he also became the first driver to be killed in a race accident in the event's history in 1967.
From late sixties to early seventies, the presence of Japanese cars and drivers has become more prominent. For example, Mitsubishi sent its own formula cars, named a Colt, to Macau for a couple of years and, in 1969, Sohei Kato drove it and finished the race in third. Nobuhide Tachi - the co-founder of Tom's - won the 1974 Guia race with his Toyota Celica and became the first Japanese Macau winner. He then repeated the victory next year and earned him the nickname Tiger of Macau. From 1974, the Grand Prix adopted Formula Pacific regulations - effectively Formula 2 at that time but with 1.6 liter engine - for the feature race and, with appearances of the top level guest drivers, the event became more and more attractive.
Thus, through its first quarter-century, Macau Grand Prix has established itself as one of the world class major motor sport events in Asia and earned recognition as a truly unique race meeting that combines the topnotch formula car and touring car races, as well as the Motorcycle Grand Prix, in one weekend.